How many days are enough for San Antonio?
San Antonio is a city with a wide variety of attractions and activities, so the amount of time needed to see everything depends on each traveler's interests. Generally, a minimum of two to three days is time to see the city's top attractions, including the Alamo, River Walk, and San Antonio Missions.
If you want to explore more of the city's cultural and historical sites, four to five days would be ideal. This would give more time to visit attractions such as the King William Historic District, the Japanese Tea Garden, and the McNay Art Museum.
For those who want to take day trips to the surrounding areas, such as the Texas Hill Country or Natural Bridge Caverns, you should plan to spend at least a week in San Antonio.
In summary, while it's possible to see some of San Antonio's main attractions in just one or two days, you may spend at least three to four days to fully experience the city's history, culture, and natural beauty.
How to Spend a Day in San Antonio
If you only have one day to explore San Antonio, don't worry - there are plenty of exciting things to see and do. Here's a suggested itinerary for a perfect day in the city:
Start your day at the Alamo. This historic mission is one of the most famous landmarks in Texas and is the site of the famous Battle of the Alamo. Admission is free, and you can take a self-guided tour to learn about the history of the site.

After exploring the Alamo, head to the River Walk. This beautiful area, lined with shops, restaurants, and bars is a great place to stroll and take in the sights. You can take a boat tour along the river for a unique perspective on the city.

For lunch, head to the San Antonio Market Square. This colorful market is a great place to sample Mexican food and browse local crafts and souvenirs.

After lunch, visit the San Antonio Museum of Art. This world-class museum has a collection of more than 30,000 works of art from around the world, including a large collection of Latin American art.

In the afternoon, head to the Tower of the Americas. This 750-foot-tall tower offers panoramic views of the city from its observation deck. You can also enjoy a meal or drinks at the revolving restaurant at the top of the tower.

Finally, end your day at the Pearl Brewery complex. This trendy neighborhood has shops, restaurants, and bars in a historic setting. You can also take a stroll along the River Walk to enjoy the beautiful scenery.
With this itinerary, you'll be able to see some of the best sights and attractions that San Antonio has to offer in just one day.
What to do in San Antonio for 3 days
If you're planning a 3-day trip to San Antonio, there's plenty to see and do in this vibrant city. Here's a suggested itinerary for making the most of your visit covering the majority of things to do in San Antonio :
Day 1 - River Walk - Breakfast - Alamo - San Antonio Missions
Start your day with a stroll along the iconic River Walk, a network of paths and walkways that follow the San Antonio River. Stop for breakfast at one of the many cafes and restaurants along the river, then head to the Alamo, a historic site that played a pivotal role in Texas' fight for independence. Now you can head across to the San Antonio Missions National Historical Park. This is a UNESCO World Heritage Site with four historic missions built in the 18th century.
Day 2 - Natural Bridge Caverns - Botanical Garden
Spend the day exploring San Antonio's natural wonders, starting with a visit to the Natural Bridge Caverns, a series of underground caves that feature stunning rock formations and underground waterfalls. After exploring the caverns, head to the San Antonio Botanical Garden, a lush oasis of greenery and flowers that features 38 acres of gardens, including a Japanese tea garden and a Texas native plant area.
Day 3 - McNay Art Museum - Buckhorn Saloon and Museum - Majestic Theatre
Wrap up your trip with a day of culture and entertainment. Start with a visit to the McNay Art Museum, a world-renowned institution that features a collection of contemporary and modern art. You can thenhead to the Buckhorn Saloon and Museum, this features an large collection of Western memorabilia and wildlife. End your day with a performance at the Majestic Theatre, a beautifully restored theater that hosts a variety of live shows and concerts throughout the year.
By following this itinerary, you'll be able to see many of San Antonio's top attractions and get a taste of the city's rich history, natural beauty, and cultural scene.
Fun things to do in San Antonio
San Antonio is a vibrant city with an abundance of fun and unique things to see and do. Here are just a few of the top things to do in San Antonio :
San Antonio Zoo: With over 750 species of animals, the San Antonio Zoo gives animal lovers a must-see attraction. Highlights include the African Plains exhibit and the Gibbon Forest.

Botanical Garden: The San Antonio Botanical Garden is a 38-acre oasis of exotic plants and flowers. Stroll through the Japanese Tea Garden, the Texas Native Trail, and the Lucile Halsell Conservatory.

Buckhorn Saloon: For a taste of the Old West, head to the Buckhorn Saloon and Museum. See over 520 species of wildlife from around the world and enjoy a drink in the historic saloon.

Natural Bridge Wildlife Ranch: Take a drive through the Natural Bridge Wildlife Ranch and get up close and personal with over 500 animals from 40 different species. The ranch is open year-round and offers guided tours.

McNay Art Museum: Art lovers will appreciate the McNay Art Museum, which features over 20,000 works of art from the 19th and 20th centuries. Highlights include the sculpture garden and the European art collection.

Ghost tour: For a spooky and entertaining evening, take a ghost tour of San Antonio's historic downtown. Hear stories of haunted hotels, ghostly apparitions, and unexplained phenomena.

Fiesta Texas: For thrill-seekers, Six Flags Fiesta Texas is a must-visit. The theme park has over 50 rides and attractions, including roller coasters, water rides, and live shows.

River Walk: The San Antonio River Walk is a 15-mile network of walkways that wind through the city's downtown area. Take a boat tour, dine at a waterfront restaurant, or simply enjoy the scenic views.
Whether you're an animal lover, an art enthusiast, or a thrill-seeker, San Antonio has something to offer everyone.
Austin vs. San Antonio: Which is better to visit?
When planning a trip to Texas, visitors often debate between visiting Austin or San Antonio. Both cities have their unique charm and attractions, making the decision a tough one.
Austin, is the state capital, known for its vibrant live music scene, trendy food scene, and quirky culture. The city is also home to several museums, parks, and outdoor recreation areas. Visitors can explore the Texas State Capitol building, wander around the University of Texas campus, and take a dip in Barton Springs Pool.
On the other hand, things to do in San Antonio offer a rich history, vibrant culture, and natural beauty. The city is most famous for the Alamo, but also boasts other significant historical sites such as the San Antonio Missions National Historical Park. The River Walk, with its charming cafes and shops, is a must-visit destination, as is the Natural Bridge Caverns.
One significant advantage of San Antonio over Austin is that it offers more family-friendly activities, such as the San Antonio Zoo, the Botanical Garden, and SeaWorld San Antonio. The city also offers several ghost tours and other attractions that are sure to keep kids and adults entertained.
When it comes to food, both cities offer plenty of delicious options. San Antonio focuses on its Tex-Mex cuisine, while Austin is famous for its barbecue.
Overall, choosing between Austin and San Antonio comes down to personal preference. If you're interested in live music, trendy food, and outdoor recreation, Austin might be the better choice for you. If you're more interested in history, culture, and family-friendly activities, San Antonio is the way to go.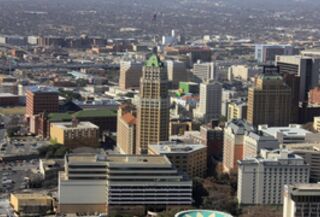 The San Antonio Cityscape