Texas loves BBQ and the favorite BBQ cut is Beef Brisket. It is the plate by which a BBQ joint is judged and Texans have been known to queue for hours to get the Best Brisket in Texas. Just take a stroll by Franklin Barbecue in Austin, Texas and take a look at the queue if you don't believe us.
There is no simple Texas Brisket recipe to follow, it is a cooking process that can take years to master.
How to Cook Texas Brisket
Texas Brisket involves cooking the entire cut (also known as packer brisket), so the flat and the point parts of the brisket are together. This can weigh anything from 8 to over 12 pounds.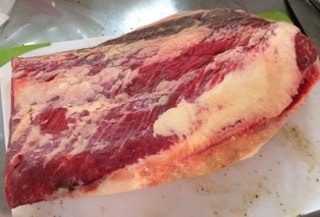 Entire Cut of Brisket