What to Do and See in Wimberley, Texas
If you're planning a visit to Wimberley, there's no shortage of things to do and see. Here are just a few of the highlights:
Blue Hole Regional Park
Blue Hole Regional Park is a natural area that's perfect for swimming, hiking, and picnicking. The park features a natural swimming hole, hiking trails, and picnic areas. It's a great place to relax and enjoy the natural beauty of the Texas Hill Country.
Wimberley Glassworks
Wimberley Glassworks is a glassblowing studio and gallery that's been in operation since 1992. Visitors can watch master glassblowers at work and browse the gallery to purchase.
Cypress Creek Nature Preserve
Another popular spot for outdoor enthusiasts is the Cypress Creek Nature Preserve. The 7.24 acre preserve creates a crucial wildlife corridor that support beneficial pollinators, aquatic life, and charismatic mammals. Visitors can hike the trails, picnic in the meadows, or simply enjoy the serenity of the surroundings.
Bella Vista Ranch
A 75-acre olive farm and vineyard. Visitors can tour the grounds, sample olive oils and wines, and even take part in olive oil and wine-making workshops. The ranch also hosts live music events and has a gift shop stocked with local products.
Wimberley Valley Museum
For those interested in history, the Wimberley Valley Museum is a must-visit. Housed in a restored 19th-century schoolhouse, the museum features exhibits on the region's Native American, Spanish, and pioneer past. Visitors can also browse a collection of local art and artifacts.
Wimberley Market Days
No visit to Wimberley would be complete without a stop at the weekly Wimberley Market Days. Held on the first Saturday of each month from April to December, this beloved event features over 475 vendors selling everything from handmade crafts to vintage finds. Visitors can also indulge in tasty treats like ice cream and funnel cakes.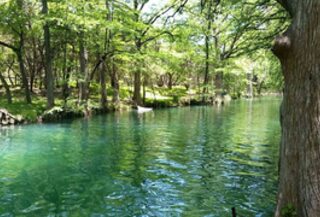 Blue Hole Regional Park is a natural area perfect for swimming