The End
In 2008 the Houston Fire Department declared the Houston Astrodome to be non compliant with the building and fire code so the iconic venue closed its doors for the last time. Houston residents were stunned by News Reports that the Eighth Wonder of the World was no more, a venue that had once defined the can-do spirit of Houston was closed.
Is Houston Astrodome Still Standing?
Over ten years since the Houston Astrodome was closed, it still sits there, dormant and fenced off. On the 15th January 2014 it was listed on the National Register of Historic Places
Did they Tear Down the Astrodome?
A partial demolition took place in 2013, exterior walkway towers and ticket booths were removed and asbestos abatement work was carried out. A "Yard Sale" took place where fans got the chance to buy stadium seats, pieces of AstroTurf and other Astrodome memorabilia.
What Next for the Houston Astrodome?
In 2013, 53% of Texas voters rejected a proposal that would have cleared $217 million in bonds to turn the Astrodome into a huge event and convention center. In the two weeks that lead up to the vote Astrodome supporters drove around the county in a 26 foot truck dubbed the "Dome Mobile". Inside the truck was a giant wall that people used to write their favourite memories of the Houston Astrodome.
In 2019, things are finally looking up for the Houston Astrodome after Harris County commissioners approved a $105 million plan to reinvent the dome. The third and final round of asbestos abatement has taken place and later this year construction is expected to start. The astrodome's floor will be raised in order to create a massive underground parking garage in addition to 9 acres of open space that can be used for festivals, conferences and commercial space. Construction is expected to end in 2020 when the Houston Astrodome could once more open its doors to a new era of entertainment.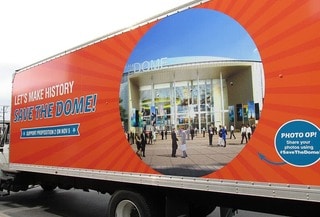 Save The Dome Mobile Truck in Houston, Texas Photo Credit : Houston Public Media