At its most distant points Texas is 790 miles long and 773 miles wide. In order to experience the answer to how big is texas you could take a drive from Beaumont to El Paso. it would take you around 12 hours to undertake the 827 mile journey from one side of the Lone Star State to the other. Going from the top of the panhandle to the bottom of the state, a trip from Dumas to McAllen would also take around 12 hours.
Comparing Texas to other Countries
Everything is Bigger in Texas, you might have heard that one before, but how big is Texas compared to everywhere else?
We consulted thetruesize.com to find out. Truesize can project the actual geographical size of one country or state onto another without any distortion.
How Big is Italy Compared to Texas?
Texas can easily eat up most of Italy when the two land masses are superimposed on each other but Texas is actually 2.2 times larger than Italy. However Italy has a Population over twice as Big as Texas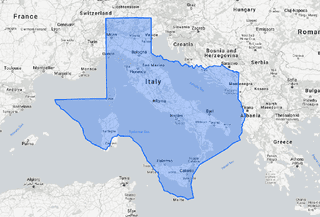 How Big is Italy Compared to Texas? Photo Credit : thetruesize.com