Differences and Symbolism
Bluebonnets and lupines are both members of the legume family and share some similarities, but there are also differences between them. One of the main differences is that bluebonnets are native to Texas, while lupines are found in many parts of the world. Another difference is that bluebonnets have a more distinct shape, with tightly packed clusters of flowers on tall stems, while lupines have more loosely arranged flowers.
Bluebonnets are not poisonous, but they do contain a substance called alkaloids that can result in digestive issues if ingested in large quantities. Despite this, bluebonnets are not typically harmful to humans or animals and are safe to enjoy in moderation.
There are six different types of bluebonnets, including the Texas Bluebonnet (Lupinus texensis), the Sandyland Bluebonnet (Lupinus subcarnosus), and the Big Bend Bluebonnet (Lupinus havardii). The Texas Bluebonnet is the most commonly known and recognized type, with its deep blue color and white-tipped petals.
In Texas culture, bluebonnets hold a special place as a symbol of the state's beauty, resilience, and pride. Bluebonnets, associated with springtime and the renewal of life, with vibrant colors have inspired artists and poets alike. Lady Bird Johnson, former First Lady and Texas native, played a significant role in promoting the planting of wildflowers in Texas, including bluebonnets, as a way to beautify the state's highways and public spaces. Today, bluebonnets remain a beloved symbol of Texas and a testament to the state's natural beauty.
Tips for Growing and Observing Bluebonnets
If you're a Texan or a visitor to the state, you might be interested in growing or observing bluebonnets. Here are some tips for both:
How can I grow bluebonnets in my yard?
Choose the right soil and location: Bluebonnets prefer well-drained soil and full sun exposure.

Plant seeds in the fall: Plant bluebonnet seeds in the fall so they can grow roots during the winter.

Don't overwater: Bluebonnets are drought-tolerant and do not need frequent watering. Water once a week.

Fertilize sparingly: Bluebonnets do not need fertilizer. Too much fertilizer can result in excessive foliage growth and fewer blooms.
What is the best time to see bluebonnets in Texas?
The bluebonnet season in Texas typically begins in March and lasts until early May. The best time to see bluebonnets is usually in mid-April when they are in full bloom.
Tips for observing and photographing bluebonnets
Respect private property: Many bluebonnet fields are on private property. Be respectful and do not trespass.

Wear appropriate attire: Bluebonnet fields are in rural areas with uneven terrain. Wear sturdy shoes and long pants to protect yourself from prickly plants and insects.

Find the best lighting and angles: Take a photo of bluebonnets in the early morning or late afternoon when the light is soft and warm. Experiment with different angles to find the best composition.

Be mindful of traffic: When photographing bluebonnets along roadsides, be cautious of traffic and do not block the roadway.
By following these tips, you can successfully grow bluebonnets in your yard or capture the beauty of Texas' state flower through observation and photography.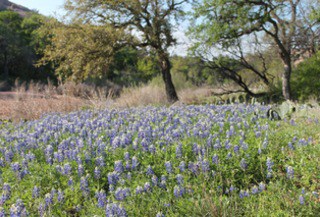 Texas Bluebonnets in Bloom